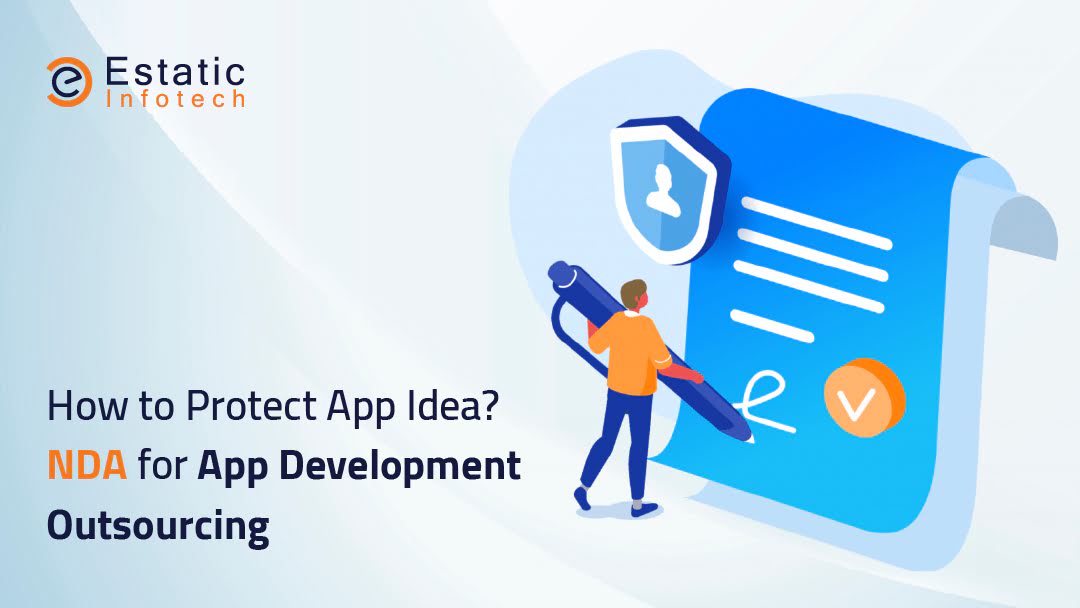 Are you looking to protect your app idea while outsourcing mobile app development company?
When it comes to app development idea, the first question comes in mind is "How can I protect my App Idea?"
The most straightforward way to accomplish the app protection idea is to sign the NDA with a software development company for your app development.
But, how to protect the app idea and how it will work? Is NDA worth doing?
This article will cover all the answers along with detailed information on NDA.
Besides, we will assist you to identify how to avoid unnecessary conflicts and stop worrying about information leaks.
What is NDA?
The NDA is a legitimate document that limits the distribution of important information. Here, the parties agree not to disclose any data related to the app development to make the idea safe.
A non-disclosure agreement by the organization you partner with will represent data in detail that are confidential and it will identify the responsibility for its disclosure.
It is crucial to protect the app idea and relevant information if you are looking to develop digital products. It will help prevent data leakage and can limit businesses from data loss and financial risk.
The first thing business should do is to sign a nondisclosure agreement for app development.
It imparts your app idea and will offer peace of mind as your idea and plan for app development are safe with software outsourcing company through the entire app development process.
Along with keeping the idea secure, the NDA will also keep any possible conflicts away.

The foremost responsibilities of the NDA:
Prevent the disclosure of important data when it has been revealed,
To ensure there is no confidential data leakage,
Take of any essential information to not be disclosed and not damaged the company.
What is confidential information covered by NDA?
Non-disclosure agreements include any type of information, consist of:
Business strategies
Customer or supplier databases,
Any software,
Personal data of employees,
Individual service/product ideas
Pros of the Non-disclosure Agreement for App Development:
Company Image Protected
Personal Data Security
Idea Stealth Protection
Technical Security
Cons of the Non-disclosure Agreement for App Development:
No Portfolio Highlight
No Public Credit for Conductor
When Should You Sign an NDA?
When you are looking to get any service from the organization that includes your data or any essential information, signing NDA is crucial.
Here, we have listed the main situations when you have to access an NDA process:
If you are engaged in any type of research and need to hide the crucial information.
When you are working on a project and need to secure clients' data.
While working with any UT partner where you need to share the business information.
As a startup, when you have to present to shareholders and investors.
When you want to develop an app with your innovative product/service idea.
Is the NDA Process Necessary?
If you want to develop an app based on an innovative idea or design a unique product, the first thing to do is to sign NDA.
If your product/service will be going to make some change and will be the first in the market, NDA is a must.
When you outsource any app development company, with the help of the NDA, it assists developers and other parties not to disclose crucial data to anyone.
How to Protect Your App Idea?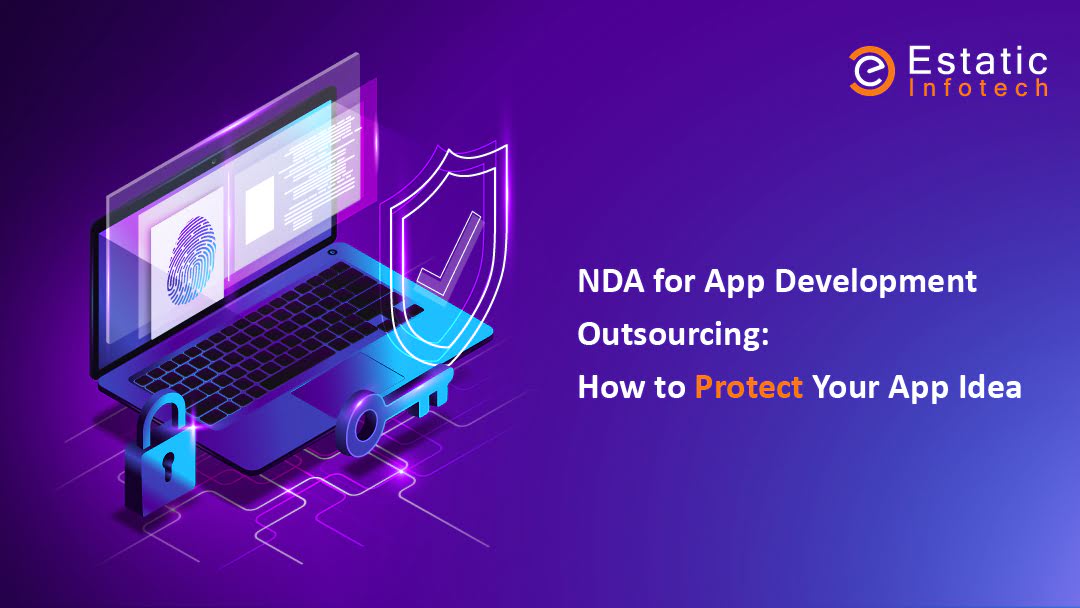 A non-disclosure agreement policy comes with key characteristics to limit the information. As mentioned above, to secure the app idea and crucial information, NDA forms of intellectual property are required that secures the mobile app idea.
By signing an NDA, the signatories agree to not disclosing the crucial data. It will stay between those who have signed the document for a custom software development company.
The mobile app development NDA comes as a legal document that limits the distribution of essential data of the client/project/related information into the range of parties who signed the NDA form.
If the mobile app NDA is used accurately, it is one of the best forms to be signed that keeps your data safe. However, the urge to preserve secrecy should be done properly to avoid any business issues.
Remember, the best software outsourcing company has experience and reputation so they're least interested to steal your app idea.
What to Include in NDA to Protect Confidential Information?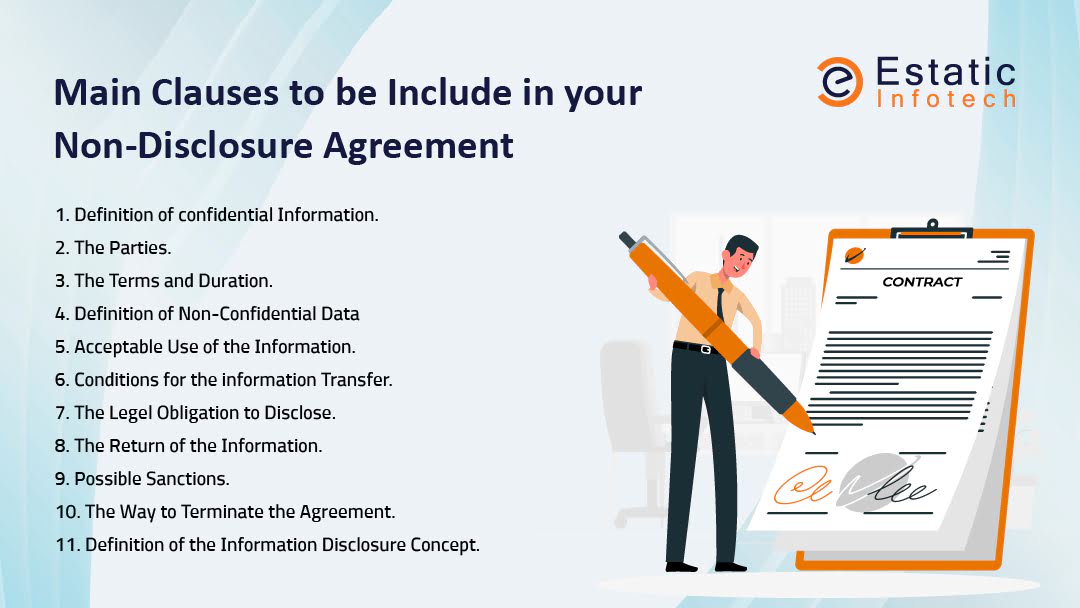 1. Protect Confidential Data
To protect, the data is the main clause of your agreement. And when you are being partnered with any company for your app development, the first thing to be done is to decide what exactly relates to private data.
If you are looking to protect the app idea, you need to give exact and real examples of confidential information that are been non-disclosed.
While signing the NDA, you can mention the name of the data to be protected for better understanding.
2. Definition of Non-confidential Data
While defining the contract, it's important to specify the data to be shared. Sometimes, it's recommended to mention the non-confidential data in the agreement.
It will help the business to understand information and what kind of data is to be protected.
Non-confidential information consists of resources and data that is publicly available or known from third-party sources.
3. Parties to the Non-disclosure Agreement
Here we are discussing the parties to your contract:
the client presenting the information,
the contractor holding the confidential data,
third parties, such as outsourcer employees, and more.
4. NDA Validity Period
While signing the NDA, you have to get the validity time for the mobile app development idea.
A year, two years, a decade? It doesn't matter in the case of the long-term project but on the safer side, you must consider this condition while making NDA.
5. Conditions for the Information Transferred
It's effective to show how you plan to transfer data to your contractor when enlisting for the NDA for app development. It is suggested that you can select all the essential information sent in a specific way for the security contract.
6. Definition of the Information Disclosure Concept
What do you think to be an unauthorized or illegal NDA of confidential information?
You can explain this concept and mention it in your agreement.
the contractor holding the confidential data, It consists of the sale of data, the transfer of data to third parties, and more.
7. Cases when Data Disclosure is Allowed
You must have a clear vision and reason for signing NDA and while signing it and consider all the important information to be secured.
However, there will be conditions where the order performer has no other choice but to give out the data received and they cannot be blamed.
In some situations, communication with government agencies and courts is required to be added. As you understand, these authorities can make anyone reveal the most private data.
So, to prevent any such issues, it is recommended to indicate when the disclosure of the data isn't a violation of the contract.
8. Returning information
A business with whom you have partnered for the app development process, must return all the information received once the project is completed. You can ask in terms of any required data that was given in the popularity of cloud storage
You must receive all the shared information as soon as the agreement or decided time concludes.
9. Possible Sanctions
Let's say in a worst-case scenario, the business failed to protect the data. What is the action to be taken?
What kind of penalties do you expect from them?
You must know the clause of how to deal in such a situation and which are the steps to be followed.
To Use NDA or Not to Use, That Is the Question.
If you are looking to hire a mobile app development company for your app development idea, it can be a question to you on how to protect your app idea.
To protect the app idea and other valuable information is of utmost importance in today's data-driven world. It can be a concern if your crucial data gets a bridge.
The Non-Disclosure Agreement is a traditional and most popular term used in businesses for restricting business data and related information from being stolen.
Business partnerships are held on trust and not just a contract's signatures. If you're not sure whether you can partner with someone, NDA is helpful for the parties where there are no chances of data sharing.
NDA will help to keep information safe as it will create an environment where everyone is on the same page.
For any app development process, it is very important to share the details with the software development company. So, they can work precisely on your app idea. Therefore, preparing the NDA is advisable after an initial discussion of the project.
How Does an NDA Protect Your Mobile App Idea?
Confidential information related to business, service/product, or any customer data is to be prevented and secured from spreading. For the same, NDA is the best option to be signed while making the deal.
In the digitalization era, data is the most valuable asset any business has.
Organizations are highly taking care of data and especially website development companies understand its importance and work legally following all required steps and secure the data.
One of the ways to keep these fundamental business data safes is by enrolling in a "Non-Disclosure Agreement"
As mentioned, the NDA plays a key role for a company that shares its data which will be safe and not disclosed to any other parties.
The NDA makes sure that the business party does not reveal any app idea and other relevant information to others.
Software companies like Estatic Infotech put an NDA before the starting of a project. We care about our customers' data and take care of it by protecting all the information.
To get the process secure and seamless, the mobile app development services provide a legal document (NDA) to secure all the information. Besides, you can come with your NDA form to get the process of NDA with all the required processes.